The Positive Impact of Videoconferencing
Arizona's Top Resource for Legal Videoconferencing and Other Litigation Services!
Videoconferencing has grown to be a crucial part of the world of law in recent years. Because legal teams can be made up of professionals who live at odd ends of the state– or even the country– it can be difficult to get everyone together in a singular location. When you do, it can come at the high cost of travel and wasted time.
Legal videoconferencing eliminates that problem. When utilized, attorneys are able to connect with any witnesses or legal experts "face-to-face," no matter how far they are. Clients who book this service through us have the privledge of using any device in our Phoenix videoconference suites with a secure, private connection. With the best technology at our disposal, you can count on everyone being seen and heard as you should be.
Save time and money by setting up your next deposition, interview, or meeting by videoconference.
Videoconferencing allows you to…
Reduce travel expenses: Eliminate the money and time spent on plane tickets, car rentals, booking a hotel, and more.
Have quality long-distant collaboration: Phone-tag wastes time. Text and email can misconstrue meaning. Ensure everyone is on the same page with a videoconference.
Speed up communication: Instead of waiting to hear back from someone over call and email, get out any and all questions you may have with a videoconference.
Prepare: Videoconferencing gives you the option to record and review the legal proceedings at a later date. This allows attorneys to go-over what was said and ensure a solid testimony in court.
Remote Depositions are Crucial
Stay safe at home while moving forward with the course of law. Learn more about remote depositions from our firm president, Jerry Coash Jr.
Our Location
1802 North 7th Street Phoenix, Arizona 85006
Phoenix, Arizona Legal and Court Reporting News
Recent Posts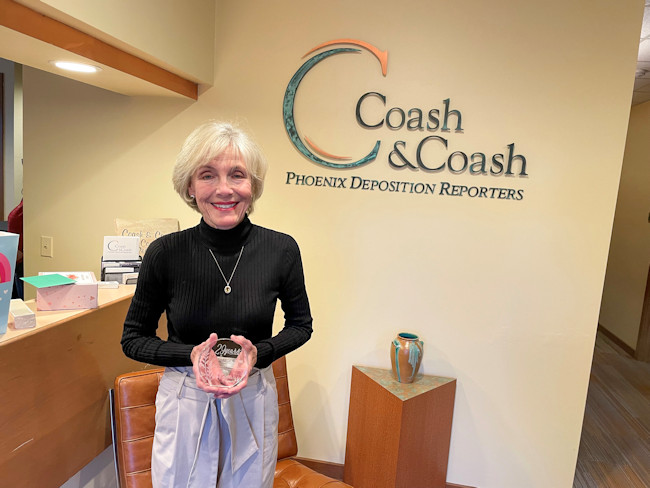 In honor of her retirement and incredible work over the years, Coash Court Reporting and Video held a celebration for her at our office with friends, family and co-workers. We will miss Colette's gracious demeanor, fashion sense, professionalism, patience...